All members of the community are welcome at the Avenue Cafe which is open every Tuesday from 10am to 2pm.  Wemeet at The Avenue, Southampton SO17 1XQ.  We serve coffee and homemade cakes and then light lunches.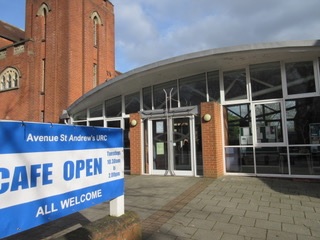 In association with the Avenue Multicultural Centre, we welcome asylum seekers who can eat free at the Avenue Café.
Ethos: Our team of volunteers aims to provide good quality food at affordable prices and to extend a warm welcome on behalf of the church to anyone who comes in. 25% of our profits go to Christian Aid.
Contact: Pam Humphreys or Barbara Marsden
The Lunch Club in on the 2nd Thursday of each month from 12.30 to 2 pm.
Cost £3.50 for a 2 course meal.  All welcome.